Globeleq Appoints Director of Communications & Government Affairs
LONDON – 15 November 2022:  Globeleq, the leading independent power producer in Africa, announced the appointment of George Cazenove as Director of Communications and Government Affairs.  Working closely with the CEO, Mike Scholey, George will lead the company messaging, be responsible for promoting and protecting corporate reputation, as well as building relationships with key government contacts to help facilitate Globeleq's growth and development.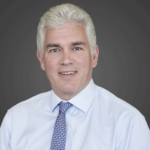 George brings with him a wealth of industry knowledge and experience.  He has more than 11 years' experience as the Head of Corporate Affairs at Tullow Oil plc, a FTSE250-listed oil and gas company focused on Africa.  George began his career as a graduate trainee at Shell before joining Citigate Dewe Rogerson, a financial and corporate communications consultancy, where Tullow was one of his biggest clients.  George has extensive experience in the energy sector in Africa having worked on major development projects in Ghana, Kenya and Uganda to name a few. He has also worked in several other countries in Africa where Globeleq has assets including South Africa, Mozambique, Zambia, Tanzania and Côte d'Ivoire.
Mike Scholey, Globeleq's CEO commented:  "We look forward to welcoming George to the Globeleq team.  I believe he will bring a new momentum to our communications approach in a rapidly changing landscape, enabling us to leverage from his experience to better position our dialogue with the media, government, and our key stakeholders."
George Casenove added: "I am very excited about joining Globeleq, the leading independent power provider in Africa. Globeleq's market position, track record and development pipeline make this an exceptionally interesting time to join the company. Having worked in oil and gas in Africa for almost 20 years, I am looking forward to getting to know my new colleagues, the other side of the energy sector and contributing to Globeleq's success."